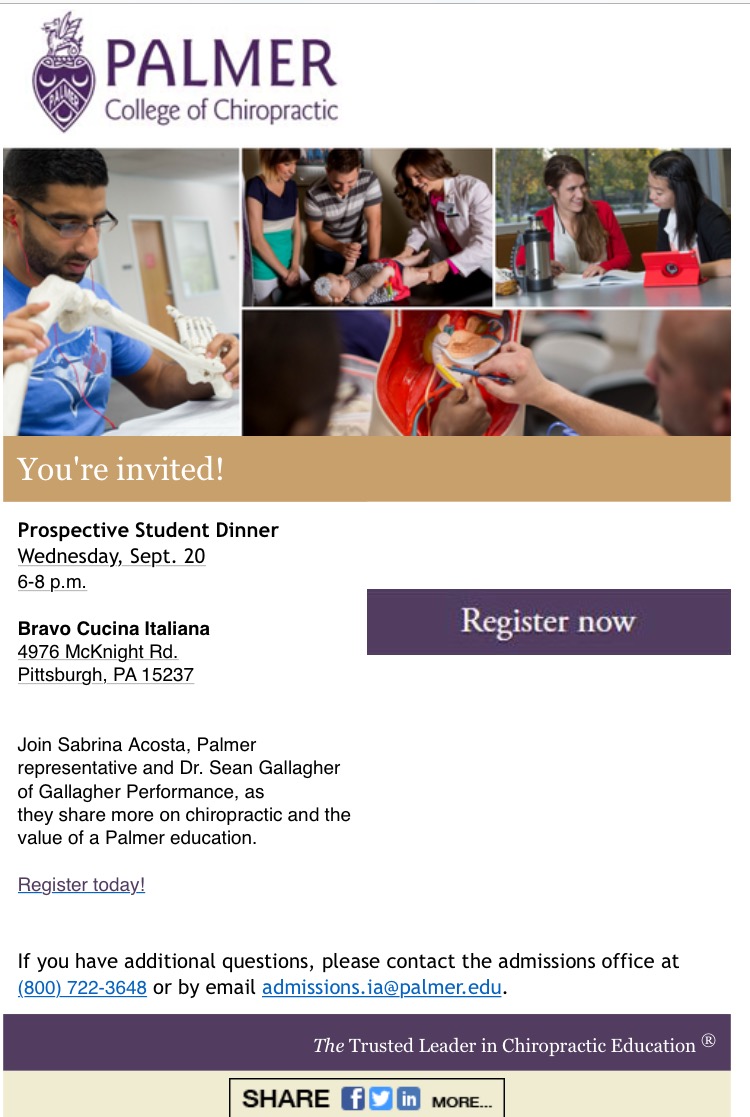 Pretty excited to be part of this Palmer College of Chiropractic prospective student event! Palmer is the trusted leader in chiropractic education for a reason. Come on out and learn more about the chiropractic profession and the Palmer experience. There will be focused discussion on sports & rehabilitation chiropractic as well. For more information or to register, please contact the admissions office at
(800) 722-3648
or by email
This email address is being protected from spambots. You need JavaScript enabled to view it.
Registration is also available here:
Prospective Student Dinner - Pittsburgh, PA
Guest speaker Bio:
Dr. Sean Gallagher DC, DACRB, PES
Dr. Gallagher is the only chiropractor in the state of Pennsylvania, and one of a select few in the country, to have completed a post-graduate residency in sports injury & rehabilitation. The residency program at Palmer College of Chiropractic is the only one of its kind within a chiropractic college in the United States. Under the direction of former Olympian, Dave Juehring DC, DACRB, CSCS and Ranier Pavlicek DC, ATC, DACRB, CSCS, the residency provided Dr. Gallagher the opportunity to further the development of clinical skills in the realm of diagnosis, treatment and management of sport-related injuries. The residency provided Dr. Gallagher the opportunity to work closely with college and high school athletes, military personnel, triathletes, elite distance runners, as well as world-class powerlifters and strength athletes. Uncommon to the formal training of chiropractors, Dr. Gallagher also received training in post-surgical rehabilitation as the department worked closely with area orthopedic practices. To compliment his chiropractic training, Dr. Gallagher has extensive training in manual therapies and developmental stabilization methods influenced by the German and Czech rehabilitation schools.
It is Dr. Gallagher's passion to provide the highest quality in patient care by using an integrative approach of multiple disciplines - chiropractic, manual therapy, functional rehabilitation, strength training & exercise.
It is his goal to develop unique strategies for his patient's to eliminate pain, enhance performance and elevate wellness.
Dr. Gallagher's professional education and training includes:
Bachelor of Science degree in Exercise Physiology from Ohio University
Graduate from Palmer College of Chiropractic (Davenport, IA)
Post-graduate residency completed in Sports Injury & Rehabilitation at Palmer College of Chiropractic
Board certified rehabilitation specialist through the American Chiropractic Rehabilitation Board (ACRB)
Extensive training and education in Dynamic Neuromuscular Stabilization & Vojta Therapy
Motion Palpation Institute trained
Temporomandibular, head, neck, and orofacial rehabilitation treatment certified through Central Institute for Human Performance
Certified Performance Enhancement Specialist (PES) through the National Academy of Sports Medicine
Continuing education focused on advanced adjusting and manual therapy techniques, rehabilitation, sports injury, neurology, sports performance and nutrition
For more related reading to sports & rehabilitation chiropractic:
https://gallagherperformance.com/low_back_pain_causes_and_treatment_recommendations/
https://gallagherperformance.com/best-way-recover-tendon-pain/
https://gallagherperformance.com/improved-approach-chronic-pain-management/
https://gallagherperformance.com/when-should-i-see-chiropractor/