8 minutes reading time
(1693 words)
Veteran's Day: Saying Thank You Means Remembering
November 11, 2016.
Veteran's Day.
Today we recognize the selfless service and sacrifice of the men and women of our Armed Forces. It's a day that should resonate with everyone in this country. Our veterans fought for the rights, privileges, and freedoms we take for granted everyday. For some, this day hits closer to home than others as we know loved ones who have served or are currently serving.
To all of you, we thank you for the service you have given to our country.
Veteran's Day carries individual meaning as well. As for our family, this means reflecting on the service of our brother Joseph Anthony Bailey, currently serving the US Air Force in Aviano, Italy, our uncle Harry Eugene Fletcher, who served in the US Air Force during World War II, and grandfather, Harry William Getz, Jr., who served in the US Army during the Korean War. We are so proud of them and grateful to have such selfless individuals as part of our family as they felt the call to be of service to our country.
Today, I want to acknowledge our pap's service as he passed away on August 18 and is no longer around for us to thank him. I've decided to write as a thank you to him. To honor and acknowledge not just his service, but also the man that he was and the impact he had on our family and those that knew him.
Pap was a very humble man, quiet and simple. He listened first before he spoke. He was patient as the day is long, but could be as stubborn as a Germans can be. Pap never finished high school. He wouldn't be considered intelligent by the world's standards, but he was smart. The kind of smart only life can teach you. Pap was a problem solver, possessing a mechanical mind that enabled him to fix just about anything.
I think this came from his work history. After his time in the military, pap owned his own service station, worked for the railroad and a tow service, and then eventually drove school bus for a local district before he retired. That just gives a glimpse of some of the trades he worked in during his time.
[caption id="attachment_2166" align="aligncenter" width="285"]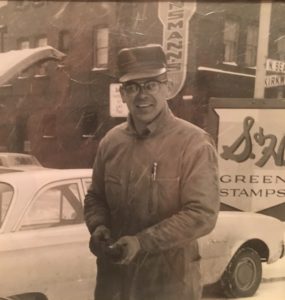 Pap at his service station in East Liberty
He had simple tastes and interests. Some of the favorites he enjoyed were: old western movies, Clint Eastwood, country music, cereal, breakfast for dinner, root beer ice cubes, lemonade, listening to the rain, naps, any crunchy food, Pittsburgh sports, taking pride in his work, his faith and his family.
Pap loved cars. Whatever make or model he owned, he took care of it. Didn't matter how beat up it was; he would fix it up with pride. He taught all his grandkids how to drive. But before we could drive, we had to learn about the car. We had to learn how to check fluid and oil levels, how to charge a dead battery, check and change an air filter, change a tire, check tire pressure, etc. These were prerequisites to driving. To him, driving was the easy part. Knowing the vehicle and proper maintenance of it was the key.
Pap loved sports. Loved the Pirates and the Steelers. But his first love grew to become hockey and it started with the Penguins. He started watching them in the mid 1980s, when they were awful and drafted some kid out of Montreal name Mario Lemieux. As a family, we are convinced he is the reason why all my brothers and sisters eventually played hockey. Pap started it. He bought my brother Matt and I our first pair of skates. Something I'll always remember.
Hockey was just a small piece of the puzzle. Pap and gram came to as many of their grandkids events as they could. They rarely missed. No matter if it was on the stage, field, court, or ice. No matter if it was birthdays, holidays, or graduations. It didn't matter; pap and gram were always there. They were always present and that was their greatest present to us.
Being present was easy for them because they both were givers by nature. Pap was always giving. Giving of his time and his resources. He did that for everyone. He never considered himself better than anyone. Pap had a unique ability to talk to a complete stranger as if he'd known them for years. You always felt welcomed around him and I think that had a lot to do with his childhood.
According to my mom, pap had a rough childhood growing up in Bay Head, New Jersey. The oldest of three boys, his mom died when he was 8 years old and it was a pain, as our mom would tell us, that never left him. His father was a good, but firm man who worked hard and instilled discipline and respect. All that said, pap grew up feeling he was never good enough. Never felt he had much to offer or was worthy of anything. He never felt deserving. People in his life didn't think he would amount to anything, doubting he would accomplish much.
After his passing, it seemed to become clear to my family that pap's self-image was probably a big reason why he was always so willing to help others. He truly didn't think he was better than anyone. He felt people deserved his time and resources. He was always willing to serve, never expected anything in return, and preferred to stay in the background to avoid attention.
While people measure success or wealth by material standards, Pap became more than rich in the thing that mattered most to him: his family. And he treated everyone he cared about as if they were family.
As for pap's family, his father's work eventually brought him to the Homestead area of Pittsburgh. Not long after, he met his future wife Barbara. My gram says he chased her and chased her until she finally gave him a chance. That's the only chance he would need. They eventually married February 14, 1953. Just three days later, he was shipped off to war and would be in Korea for 18 months.
I recall hearing that story for the first time when I was in high school, yet it took me several years to even get a ounce of a clue what they must have gone through as a newly married couple. I really had to step back in time and put myself in their shoes to fully appreciate what they went through to talk to each other.
Think about it. Think about the challenges of communicating. No international phone calls. No cell phones. No texting. No Internet. No Skype. No FaceTime. We are spoiled beyond belief with the ability to communicate with people around the world. They had none of it.
All they had was hand-written letters. That's it!
What an awesome test. If the only way you had to communicate with someone was hand-written letters, for 18 months, would you do it? Would you send one everyday? Or would you throw in the towel and move on?
My pap wrote her a letter every single day he was in Korea. And gram wrote back, sealing every letter with a red lipstick kiss. He even included photographs of his time and gram ended up putting them all together in a scrapbook.
[caption id="attachment_2169" align="aligncenter" width="960"]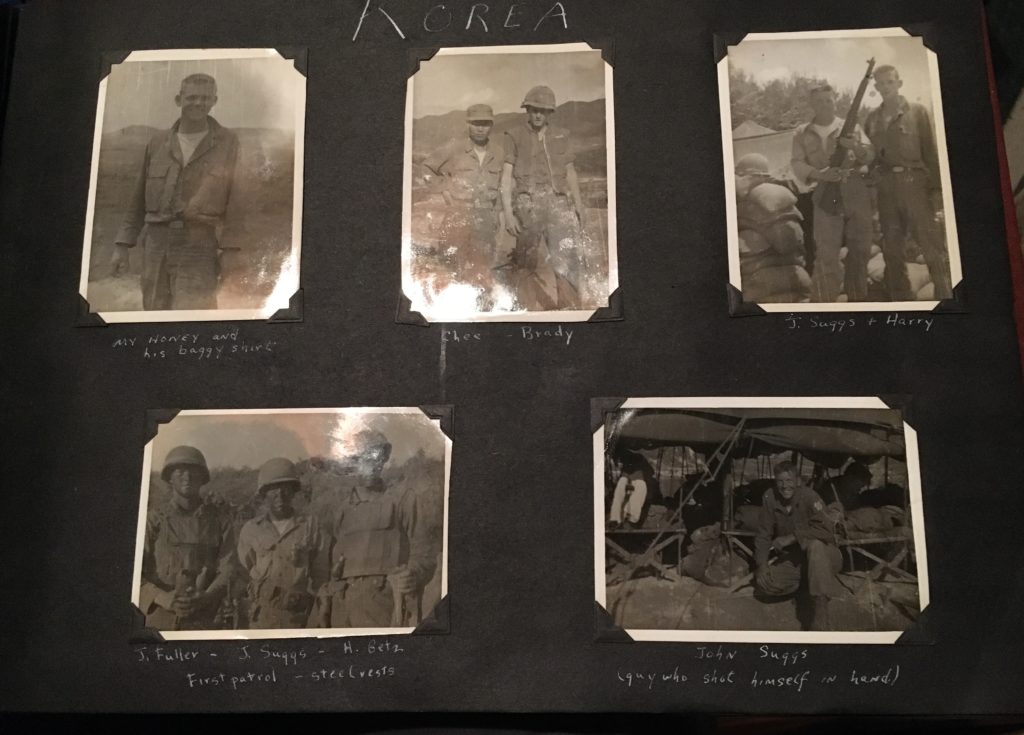 The scrapbook of Pap's days in the Army
It's no surprise their marriage lasted 63+ years. Their love and example has really showed our family something special through the years.
Learning about those letters was evidence enough to me that my pap was determined beyond belief to survive Korea and get back home. Realize he lived in a time that he didn't have a choice. His generation had to go to war.
Through the years, he never spoke much about Korea and his experience. If asked, he would never go into details. However, during the final years of his life, he finally opened up about Korea.
War is brutal. My pap saw it first hand. When I say he saw it first hand, I mean he was in the hot zone. He was in combat, on the front lines. He saw his buddies die. He witnessed how shrapnel rips through human flesh. His stories of war so vivid, being able to describe all the sights, sounds, and smells. Like many veterans, these things stayed with him for life.
[caption id="attachment_2170" align="aligncenter" width="960"]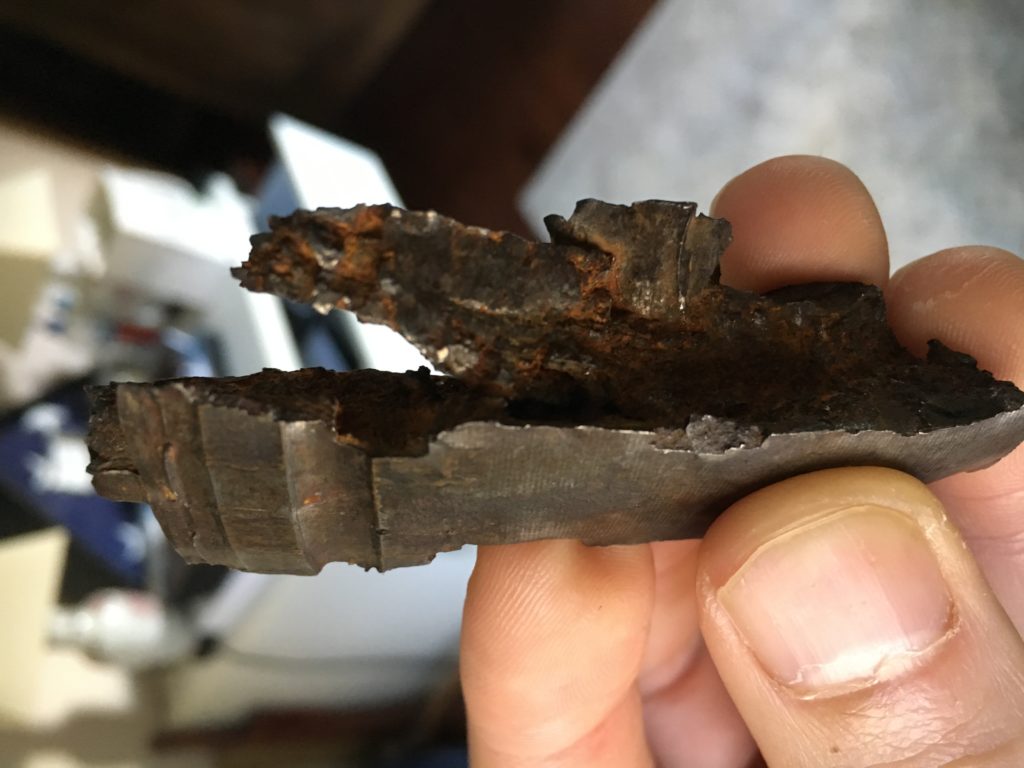 Piece of shrapnel from Korea
Yet if you knew my pap you would never have known he was a veteran who had seen such horrors. That he lived in fear and doubt, everyday, for 18 months. He never let on to the deep wounds he carried after the war. At least to the grandkids. We never fully understood what he went through until the end of his life.
Pap never liked attention and would never bring attention to himself. When they would honor the veterans at church, he would never stand. That was just him. It wasn't that he was making a statement. He simply viewed his service as his duty and that duty deserved no recognition. He viewed others as giving far more than he did, especially those that died. The fact that I'm writing this probably has him up in Heaven shaking his head.
While there are some that may argue what I'm writing would be more appropriate for Memorial Day, the truth is I'm writing this because, like every veteran, pap has a story that deserves to be told. Many of our veterans won't tell their own story. They are too humble to bring attention to themselves. It's not in their character. Our pap never brought attention to himself, but on this Veteran's Day we are thanking him by bringing attention to his service, his life, and his legacy.
To Joe, Uncle Gene, Pap, and the veterans of the US Armed Forces, thank you for your service. It's because of you that we truly live in the greatest country on Earth.

God Bless America.
Stay Informed
When you subscribe to the blog, we will send you an e-mail when there are new updates on the site so you wouldn't miss them.
Comments
2
Very moving and inspiring. Thank you for sharing your Pap's story. It is a beautifully written tribute.
Very moving and inspiring. Thank you for sharing your Pap's story. It is a beautifully written tribute.
Thank you Darla. Your words are appreciated.