2 minutes reading time
(437 words)
A Solution to Headaches
Headaches are among the most frustrating and debilitating conditions seen by healthcare practitioners, from primary care physicians to chiropractors. When severe enough, headaches may interfere or prevent even the most basic daily activities that we take for granted, such as thinking, talking, and reading.
While a logical assumption would be that the origin of headaches is in the head itself, science suggests many of
the most common headaches are generated from the joints, muscles, and nerves of the neck
.
The head and neck is an inherently unstable system that requires a complex neuromuscular system to surround the spinal column for control of movement and protection from injury. 

Many daily activities, such as prolonged sitting and poor posture, can affect the function and health of the joints, muscles, and nerves of the neck. Poor posture or prolonged postures common to students and the majority of the working class can lead to muscular imbalances, restricted joint motion, and unnecessary strain on the neck and upper back often responsible for headaches.
Referred pain and micro-trauma explain how this strain often results in headaches. Referred pain is a neurological phenomenon which is responsible for the perception of pain at a location other than where the problem exists. Using the headache as our example, the problem exists in your neck or upper back, yet your symptoms and perception of pain exists in your head. Micro-trauma is cumulative, small scale damage that occurs in and between soft tissues (muscles, tendons, joint capsules, ligaments and nerves) in response to strain. The bodies response to this strain is to lay down small amounts of repair tissue. Over time, a build up of repair tissue can form adhesions or scar within the soft tissue altering function.
Left untreated, these adhesions often lead to pain, tightness, stiffness, restricted motion, and diminished blood flow.
The result is a negative feedback cycle, the cumulative injury cycle.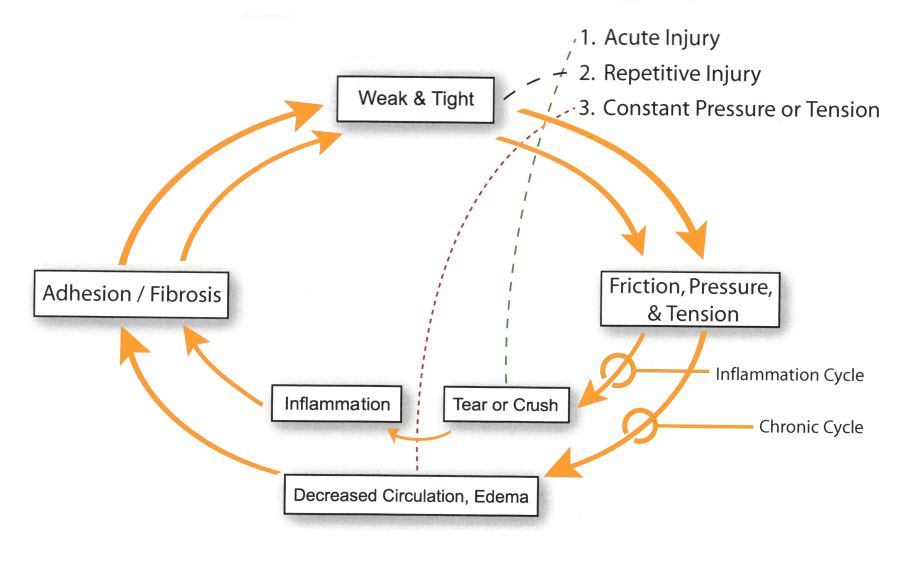 So how do we stop the cycle?
Massage therapy, myofascial release, and IASTM (instrument assisted soft tissue mobilization) techniques are just some of the tools utilized at Gallagher Performance to address scar tissue adhesions and neurological dysfunction in soft tissue. Along with these tools, we often utilize chiropractic manipulative therapy (adjustments), sensory motor stimulation, and Dynamic Neuromuscular Stabilization (DNS) to improve posture, positional awareness, and help restore muscular balance. The combination of these therapies have helped numerous patients find a solution to chronic headaches or migraines.
The next time your dealing with a headache, consider Gallagher Performance. There is a solution to headaches that doesn't involve taking medication. Call our office at (724) 519-2833 to schedule your appointment.
More related reading:
https://gallagherperformance.com/fascia_muscular-adhesions_how_they_relate-_to_pain_and_overuse_injuries/
https://gallagherperformance.com/powerful-innovative-approach-improving-body-functions/
https://gallagherperformance.com/why-stretching-wont-solve-your-tight-muscles/
Stay Informed
When you subscribe to the blog, we will send you an e-mail when there are new updates on the site so you wouldn't miss them.
Comments
No comments made yet. Be the first to submit a comment