6 minutes reading time
(1159 words)
Four Years at Gallagher Performance
April 2017 marks four years since Gallagher Performance opened and with another anniversary passing, I thought it was time to start reflecting back on our fourth year in business.
All our services from chiropractic to massage to personal training to sports performance training continue to experience steady, consistent growth since we first opened. Growth that led us into our own facility in December 2016. The move has been a very positive and necessary one for our continual business development.
On January 2, 2017, Gallagher Performance opened in our new location. After long hours and lots of work we ended up looking like this: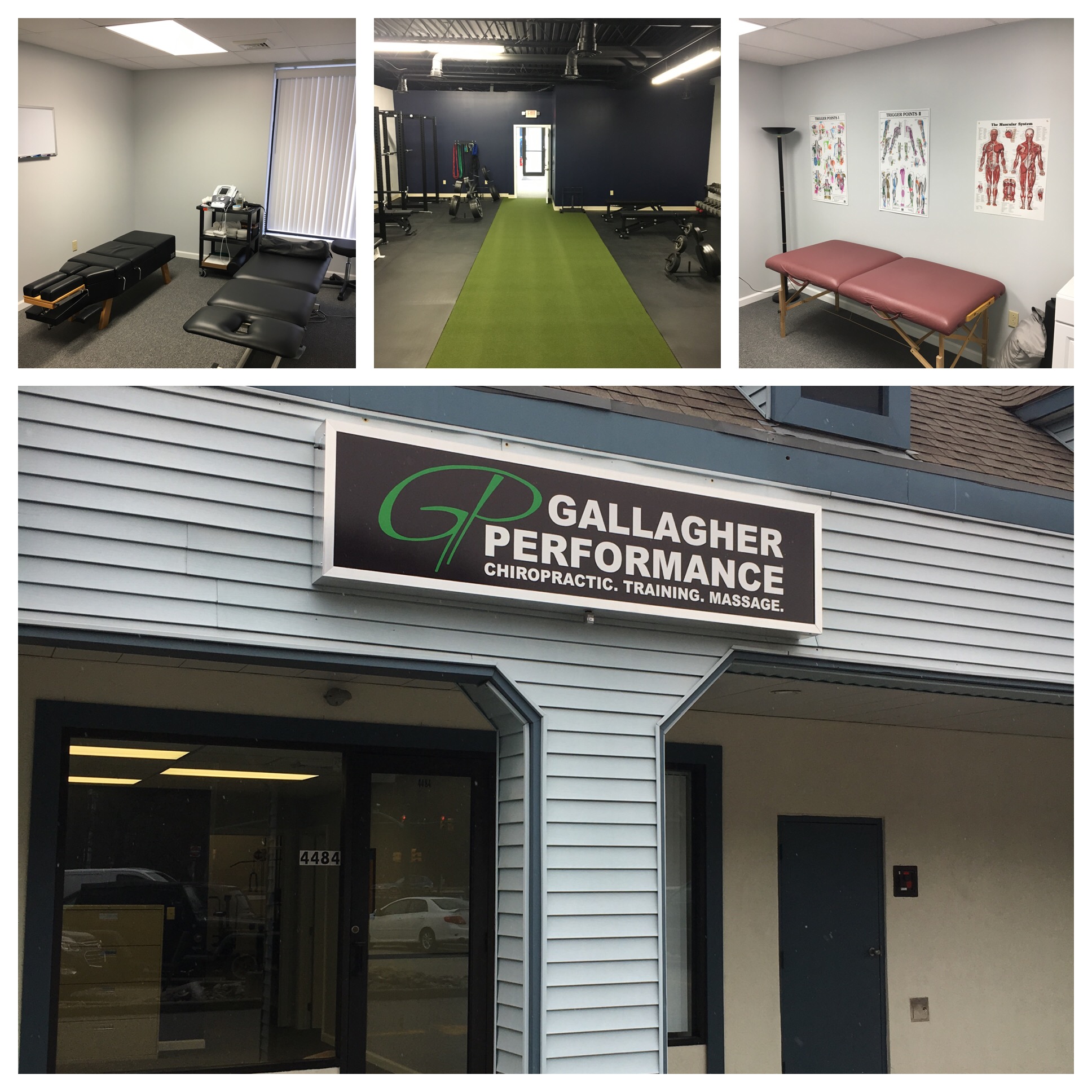 The new facility has enabled us to widen our reach, both within the community and online. Being a community resource is tremendously important to us. We are now able to hold classes, lectures and have been asked to speak to area sports teams and organizations. We are also now able to provide more educational videos on our social media and YouTube channels.
Even with the transition to a new facility, we remain loyal to providing quality of service over quantity. Gallagher Performance is about individualized attention in all our services. This is why our chiropractic and rehab patients are with their doctor every minute of every office visit. This is why Gallagher Performance isn't a gym; it's a training facility. We don't offer an open gym membership, but rather different levels of training services to meet the needs of our clients and athletes. The reason why we set it up this way is because we want people to experience how supervised training by qualified professionals yields amazing results. And our clients are achieving remarkable results in private and semi-private settings that enable individual considerations to be made appropriately.
In regards to our services, it has been another great year. GP's chiropractic and rehab therapy was recognized as one of the best in the Pittsburgh area for a third consecutive year. The results we achieve through our chiropractic, manual therapy and functional rehabilitation have helped people get out of pain and return to the activities they enjoy. There have been literally dozens of patients who have come to us after a doctor has told them they needed surgery, but we've helped them avoid these procedures. We've helped them understand the importance of not only getting out of pain, but why changing the function of their body is the key to a successful outcome and long-term recovery.
Our personal and performance training services continue to generate tremendous results for our clients and athletes. The results keep our clients loyal and the referrals coming in. We have truly cared about delivering quality in all services since we opened. It's a great feeling to see how much our clients appreciate the attention, know-how, and confidence they receive while working with us. When you focus on quality of service and improving the consumer experience, only good things can happen.
During our four years, we have seen tremendous growth in our distance/online training services as we have gone international. Now while we are growing and our reach may not be that impressive by some industry standards, it is humbling to see how our distance services are being sought after by people beyond the state of Pennsylvania. We have seen the reach grow to 12 states (AZ, CT, GA, IA, IL, MT, NJ, NY, NC, OH, TX, WI), into Canada (Alberta, Ontario), and into Portugal, Italy, and Japan.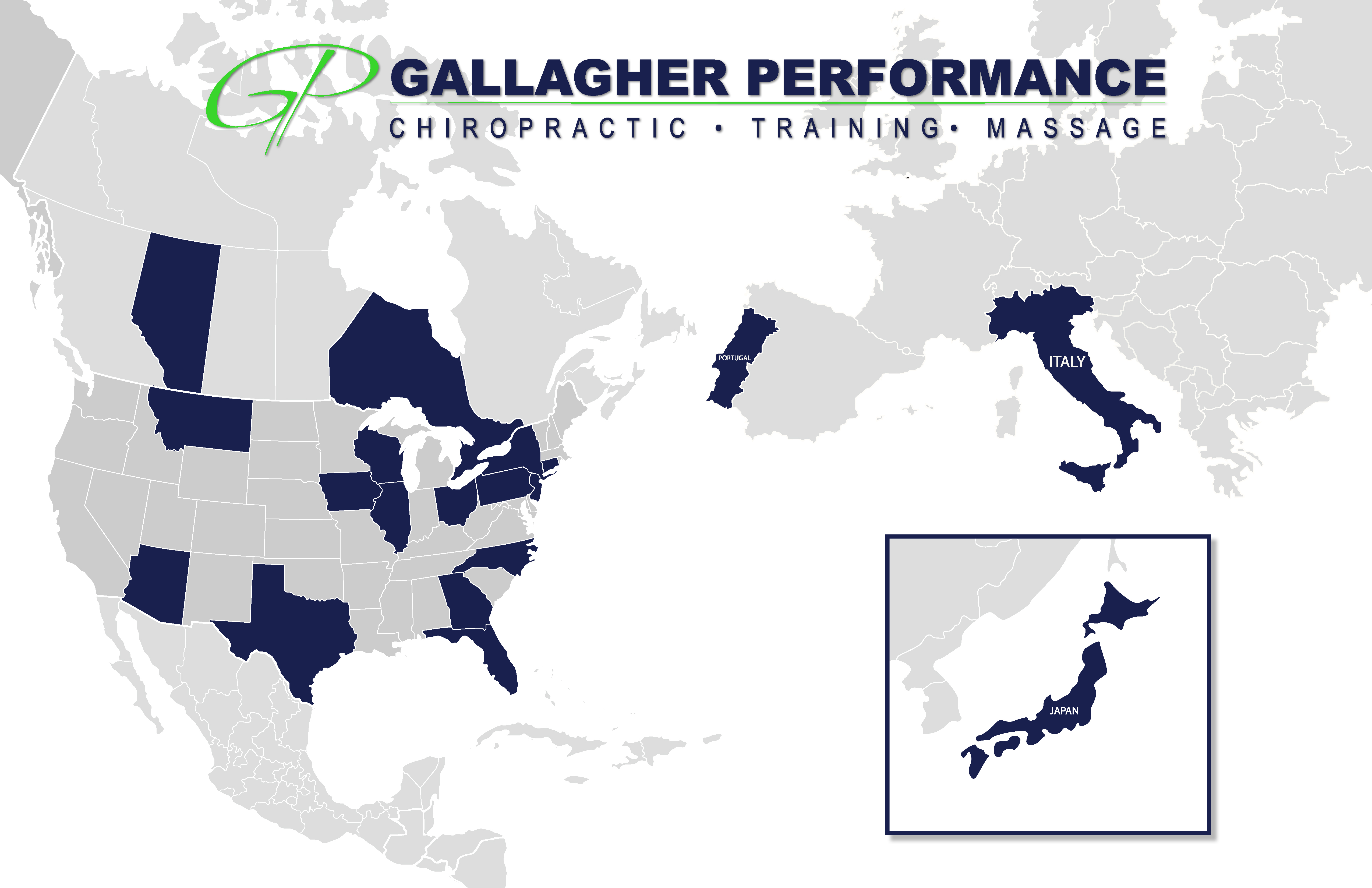 The reason for our growth isn't a big marketing budget. Rather, we work hard to set up everyone we work with for success in any way possible –  trusting that those efforts will lead to referrals and retention. At Gallagher Performance, we don't try to just "factory line" our clients/athletes through the same program with a "cookie cutter" approach.  This is because we understand training and rehabilitation is a very individual experience and everyone we work with needs very individual considerations made for them. That's what it takes to produce lasting, meaningful results.
Our sports performance training services continue to be utilized by a variety of athletes from a growing list of amateur/club organizations, high schools, and colleges. In addition, GP continues to direct the Strength & Conditioning program for the Franklin Regional Hockey Club as we move into our fourth year.
During the past year, we've seen new names join of list of athletes who have reached the collegiate level. This is tremendous accomplishment on their behalf and we are privileged to work with such determined and hard working athletes. Here's the list we have worked with, from sports performance to chiropractic and rehabilitation, and where they are coming from:
 Collegiate Athletes
Wes Ashley, University of Wisconsin - Stevens Point (NCAA DIII) - Hockey
Andrew Brncic, Alderson Broaddus University (NCAA DII) - Football
Colin Childs, California University of Pennsylvania (NCAA DII) - Football
Ben Dipko, Slippery Rock University (NCAA DII) - Football
Noah Dipko, Indiana University of Pennsylvania (NCAA DII) - Football
Justin Gismondi, Robert Morris University (ACHA DI) - Hockey
Ryan Grieco, Seton Hill University (NCAA DII) - Baseball
Carter Henderson, Duquesne University (NCAA DI) - Football
Evan James, Penn State University Greater Allegheny (NCAA III) - Baseball
Colin Jonov, Bucknell University (NCAA DI) - Football
Katie Kimmich, Seton Hill University (NCAA DII) - Soccer
Dante Luther, Washington & Jefferson University (NCAA DII) - Football
Jake Roberge, Northwestern University (NCAA DI) - Soccer
Mike Roberge, Northwestern University (NCAA DI) - Soccer
Charan Singh, University of Massachusetts (NCAA DI) – Football
Todd Summers, Villinova University (NCAA DI) - Football
Ryan Watson, Lake Erie College (NCAA DII) - Soccer
Christian Wilson, Mount St. Mary's (NCAA DI) - Track & Field
We could continue on about each of these individual athletes and the people we have had the pleasure of working with during our short time in business, but suffice it to say that we are very proud of each of each person we work with and what they've accomplished.
The same goes for our general fitness and weight loss clients. The fat loss and strength gains they experience are awesome and measurable. They consistently prove to be hard working and determined, month after month.  But beyond that, we love knowing that they're training pain-free and will be able to reap the benefits of regular exercise for a long time.
Another Year in the Books
In wrapping up, we acknowledge that Gallagher Performance would not be what it is without the consistent support we receive. A sincere thank you goes out to all you – clients/athletes, parents, family, friends, and professional colleagues – for your continual support over the past four years. Special thanks to our marketing firm, 4C Technologies, for their continual support and expertise. Without you all, Gallagher Performance would not be what it is today, and we look forward to many more years to come.
Stay Informed
When you subscribe to the blog, we will send you an e-mail when there are new updates on the site so you wouldn't miss them.
Comments
No comments made yet. Be the first to submit a comment