2 minutes reading time
(344 words)
The Solution to Long Term Improvement of Back Pain
The problem:
It's not uncommon for people with recurrent episodes of back pain to become fearful and to start avoiding activities in life. They begin to associate pain with the activity and that the activity is doing harm. Thus, in their minds, pain equals harm and any activity that causes pain avoided. The problem becomes that as this the list of activities grow, deconditioning sets in and begins to feed into back pain. At this point, most figure they are just "getting old" or figure they will need to "learn to live with the pain". The reality is there is a solution to help you fight against these feeling of fear and limitation and enable you to fight dysfunction in your body.
The solution:
Research tells us that exercise should be part of your back pain solution. This isn't true of just backs, as exercise should be part of any joint pain solution. Time and time again, more than any other intervention, exercise has demonstrated the ability to provide positive outcomes in back pain relief and reduced relapses. However, too often people use different exercises to help reduce their pain only to find that exercise makes their back feel worse. The solution isn't just simply exercise, the solution is understanding the right exercises to do while also understanding which exercises to avoid. You need to know what exercises for sciatica and disc herniation are best to do 1st to create a good foundation of movement before progressing to more difficult exercises. Where do you go for that information? Over the past several years we have put together a clinically successful exercise progression program for our patients and clients with back pain. These exercise progressions serve as the framework for rehabilitation and also serve as the foundation for improving athletic performance. Join us for our
Core Training – From Rehab to Performance
workshop and learn more about what you can begin doing immediately to help reduce your back pain, feel better, and improve your performance in sport or life.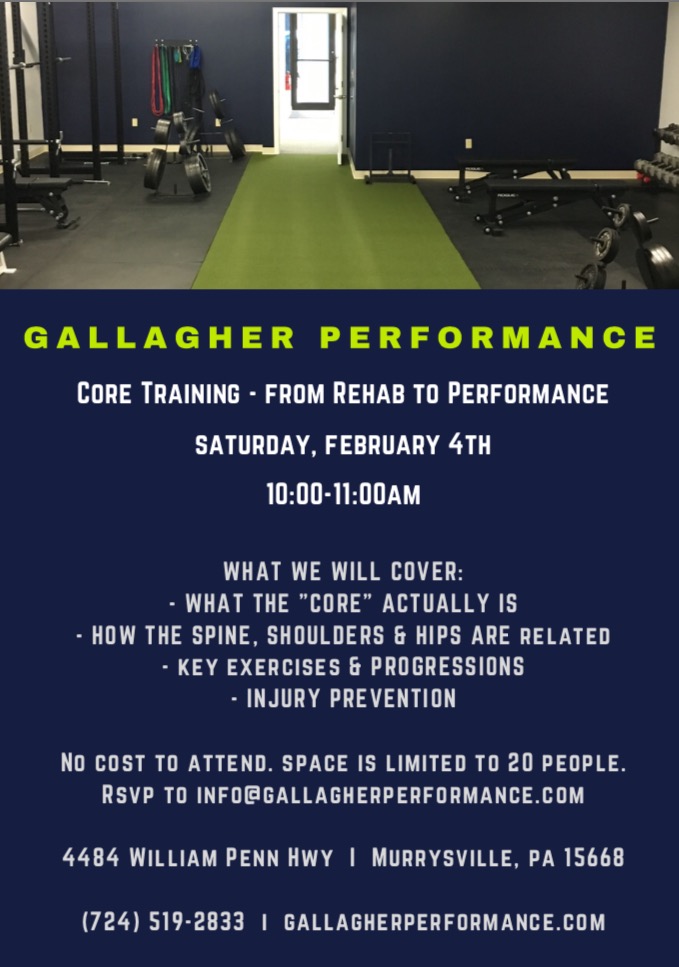 More related reading:
https://gallagherperformance.com/the-best-exercise/
Stay Informed
When you subscribe to the blog, we will send you an e-mail when there are new updates on the site so you wouldn't miss them.
Comments
No comments made yet. Be the first to submit a comment