2 minutes reading time
(383 words)
12 Week Distance Training Client Results
This training client sought out our services for three primary reasons:

1) Rehabilitate a chronic recurrent low back condition that has prevented him from training with any type of intensity or frequency for over two years AND get back to training while staying healthy in the process

2) Get stronger while packing on some quality size, and

3) Regain the feeling of athleticism from when he played college football.

We recently concluded 12 weeks and during that time he had three BOD POD evaluations. Debate on the accuracy of the BOD POD aside, impressive changes were made in only 8 weeks. These evaluations occurred on 11/21/17, 12/19/17, and 01/16/18.

Some of the BOD POD highlights include:
Fat Weight lose of 3.786lbs
Body Fat % decrease from 12.6 to 10.3
Fate Free Weight gain of 6.745lbs
Body Weight increase from 182.9 to 185.9
Images 1-3. BOD POD results from 1/16/18. This was the third, and most recent, analysis during an 8-week period.
Included below are photos of a few of his training weeks to give you a glimpse of how his training was structured. Along with the changes seen in his body composition, his strength continues to progress and he is training with weights and a frequency that he has not seen in over two years while maintaining a healthy feeling body.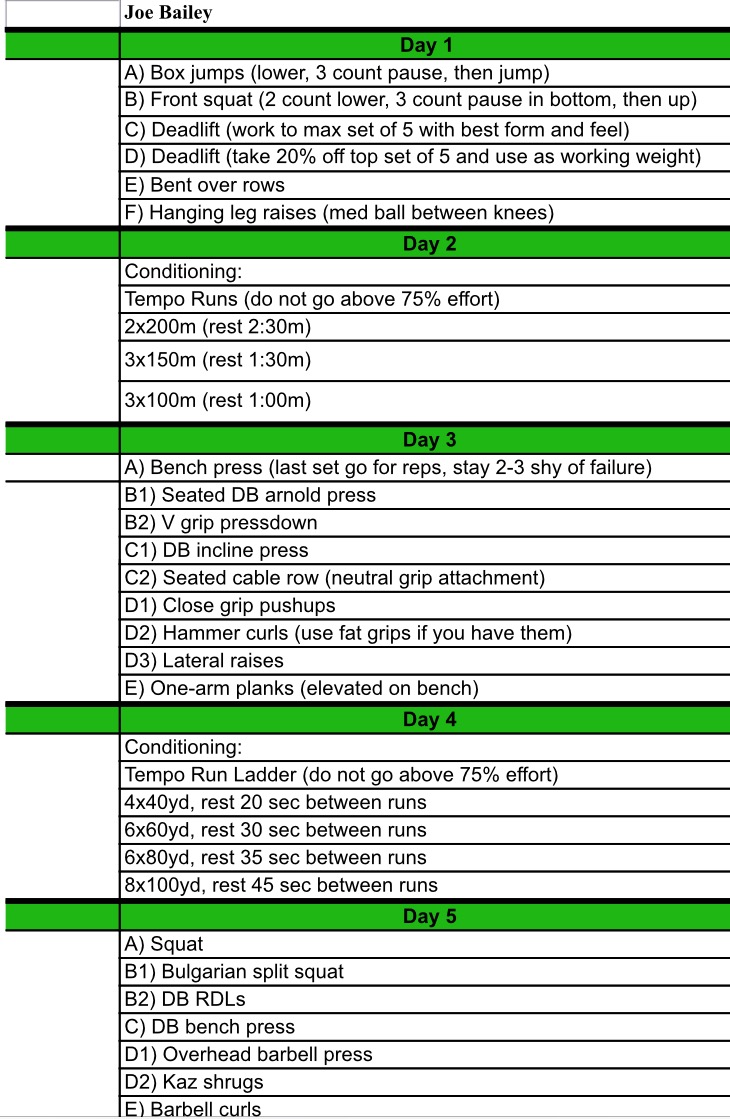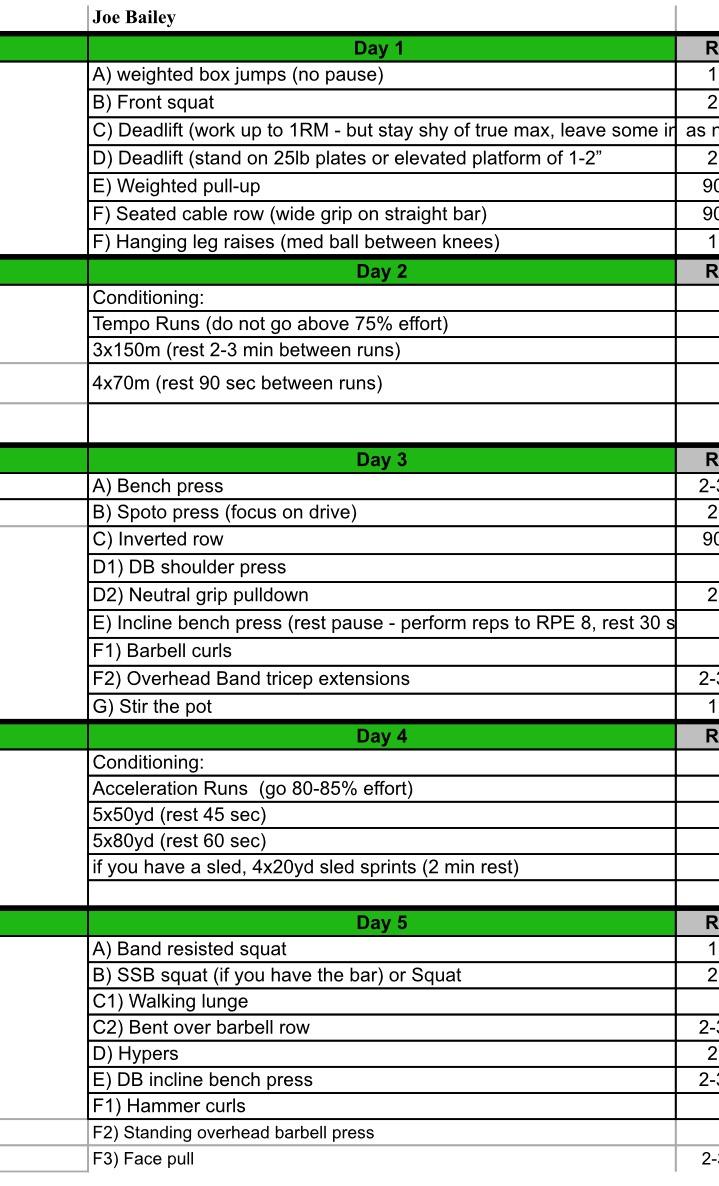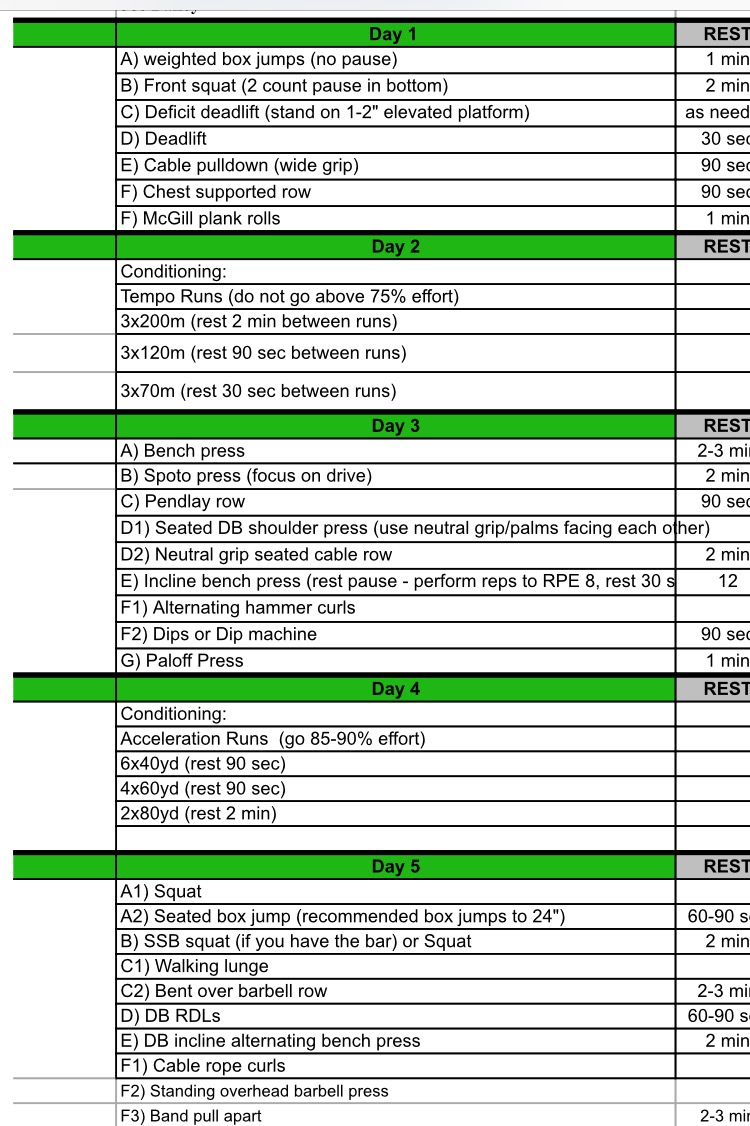 Images 4-6. Sample of program design and exercise selection.
But a big reason for the success was a 1-on-1 session where we analyzed and corrected his squat, deadlift and lower body movement mechanics and were able to identify what his pain generators were in training. The session was done before the program began. And we continue to build with the long-term and sustainability in mind.

Here is our client's experience thus far in his own words:
Thanks to Gallagher Performance for coaching me back to a consistent training regimen where I continually see improvements each week. My number one training priority is keeping my body healthy and GP has finally been able to give that to me. After two years of pain and frustration, I am now mechanically sound and have a solid foundation to build on. GP has taught me how to stay in tune to my body and use mechanics that are right for my body type."

- Joe Bailey
Stay Informed
When you subscribe to the blog, we will send you an e-mail when there are new updates on the site so you wouldn't miss them.
Comments
No comments made yet. Be the first to submit a comment